Bengal's marshy lands in the Gangetic Delta boast of a dense forest of rare Bengal plants and trees and green vegetation. Bengal Plants thrive in the dense forests of the Darjeeling Hills, tropical mixed evergreen forests of the foot hills, deciduous forests of the Plateau fringe and Mangrove vegetation of the Sunderbans.
Bitter gourd (Korola)
Commonly called Bitter gourd, it is a tropical plant of the vine family of Cucurbitaceae which is widely grown in India (Karela in Hindi), South Asia, Southeast Asia, China, Africa and the Caribbean. Bitter gourd contains vitamin A, B1, B2, and C. It also contains minerals like calcium, phosphorous, iron, copper and potassium. It helps purify blood tissue, enhances digestion, and stimulates the liver. The fruit is oblong in shape and has a ridged exterior.
Bamboo (Bansh)
The woody perennial evergreen plant, Bamboo belongs to the true grass family, Poaceae. Of high significance in East Asia, they are cultivated for
building material, food and to be used in gardens. When cultivated one should be aware of its invasive behaviour. They spread through roots or rhizomes and spread underground and break into clums through the surface. The new bamboo shoots called zhú sun in Chinese are edible. They are also used in many Asian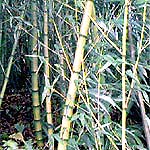 dishes often available both fresh and canned. Used in decorative artwork, companies are trying to popularise bamboo articles.The fibre of bamboo has been used to make paper in China since early times. A high quality hand-made paper is still produced in small quantities. Coarse bamboo paper is still used to make spirit money in many Chinese communities. Bamboo's long life makes it a Chinese symbol of longevity, while in India it is a symbol of friendship.