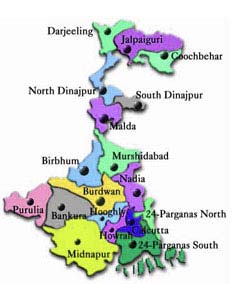 History
Bengal finds a coveted place even in pre-historic times. At the time of Alexander's invasion a powerful kingdom called Gangaridai ruled over Bengal. Later Sasanka became the king of Bengal and is said to have played an important role in the early half of the seventh century. The Palas were followed by the Sena dynasty which was ended by Muslim rulers from Delhi. Bengal was ruled by various Muslim rulers and governors till the Mughal period in sixteenth century. After the Mughals, history of Modern Bengal began with advent of European
Home page

Kolkata

Burdwan

Coochbehar

Darjeeling

Hoogly

Malda

Murshidabad

Nadia

Birbhum

Dinajpur

24 parganas

Bankura

Purulia

Midnapore

Jalpaiguri


and English traders. Battle of Plassey in 1757 changed the course of history when the English first gained a strong foothold in Bengal and India. In 1905 it was partitioned to achieve some political returns but people's growing movement under the auspices of the Congress led to the reunion in 1911. This triggered off hectic movement for freedom which culminated with Independence in 1947, and partition.After 1947, the merger of native settlement began which ended with its final reorganization in 1956 (as per Recommendation of the States Reorganisation Act, 1956) when some Bengali speaking areas of a neighbouring state was transferred to West Bengal.
Society and Culture
About three quarters of the population lives in the villages. Of the different religions, Hinduism, with its substrata of castes and aboriginal tribes, claims the adherence of more than three-fourths the population, most of the remainder being Muslim. West Bengal contains about 40 recognized communities of tribes--the better known among them being the Santals, Oraons, Munas,
Lepchas, and Bhutias--that make up less than one-tenth of the total population. Bengali is the language of most of the people, with Hindi, Urdu, Nepali, and English as minority languages. English, however, is the language of administration and a lingua franca for business purposes. Bengalis have always fostered literature, art, music, and drama. The modern period has produced, among others, the Nobel prize-winning poet Rabindranath Tagore (1861-1941), whose contribution still dominates the Indian literary scene. Bengal also boasts of three other Nobel prize winners, Mother Teresa, Amartya Sen and Satyajit Ray. Jamini Roy, Uday Shankar, Bimal Mitra and Tarashankar Banerjee all belong to this culturally rich land. The theatre is popular, and both amateur and professional performances are quite sophisticated, traditional open-air performances, are popular in the countryside, along with kavigan an impromptu duel in musical verse between village poets.Fish, rice and a plethora of sweets are Bengali specialities. Ace Bengali artisans work wonders with terracota horses, conch shells, clay models, leather, batik and wood work. Bengal handloom sarees with exquisitely woven borders also have a universal appeal.Durga Puja, coinciding with Dussehra in other parts of the country, rouses the state to a feverish pitch, with its preparations that touch the life of every Bengali. Kali Puja, festival of lights (Diwali), Dol Jatra (Holi), Ganga Sagar Mela at Sagar (January /February), the Muslim festivals of Id and Ramzan, Baisakhi - Bengal's New Year's day, Rabindranath Tagore's birth anniversary, Christmas and New Year are marked by typical abandon and devotion.